First Visit
Quick Paperwork
During your first appointment we have some quick paperwork for you to fill out providing us with your general health information and details about your condition or injury.
Click here to download and print a new patient form. Note: Completing this form in advance will eliminate wait time for your first visit.
Consultation
Once you complete your initial paperwork, you will have a consultation with Dr. Smith discussing your injury or condition focused concerns and available treatment options.
History and Examination
To understand what condition is creating your discomfort or pain, Dr. Smith will review questions with you that are related to your condition. After going through diagnosis questions, tests are performed to determine which specific issues are involved.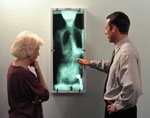 X-rays
X-rays may be required for your condition or injury so Dr. Smith can rule out more serious conditions and decide which treatment methods are right for you.
Same Day Treatment
After finishing the complete examination, background information and medical research, patients are generally given the first treatment during the same visit. First-visit treatment may include physical therapy, soft tissue therapy and/or spinal adjustments.
Home Care Instructions
Prior to leaving, patients are given detailed instructions on activities and exercises to be conducted at home. Home care may include heat or ice application and avoidance of specific positions or physical activities, including certain exercises and/or stretches.
Schedule Your Next Appointment
Dr. Smith will schedule a convent appointment time for your follow-up visit. Patients are generally seen within 1-2 days and are provided with an in-depth review of clinical findings. Dr. Smith will also discuss potential treatment options with you.